2019 has been an interesting year for cinema. We said hello to Tarantino again, and bid adieu to the Infinity Saga. This was a year where once-panned actors shined bright. When compared to the other critics on the site, I don't do rankings with my reviews. That was just one of the things that I learned when I started being a critic. So, with the New Year on the horizon, I thought it would be fun to look back on the movies I've reviewed in the past year put them in a tier ranking. And if you haven't read any of them before, I'll make sure to leave a link to each one.
F Tier
Jexi: One of the best things about the New Year, is that we look on the milestones that the last year gave us. And even though I thought I wouldn't have to deal with it, "Jexi" proved to be the first bad movie I've covered. Where to start with this one? A terrible cast coupled with an unfunny script, the story felt like every Baby Boomer's rant about the kids these days and their smartphones. The only silver-lining was one line that I was proud to quote: "This sucks."
D Tier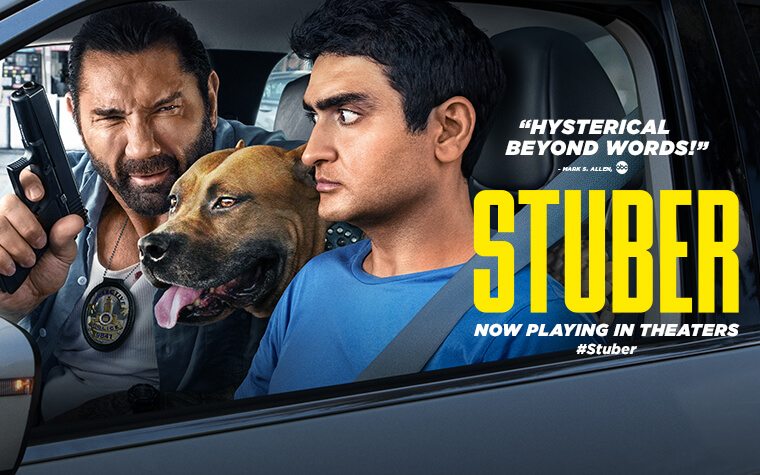 Stuber: On the surface, a movie concept like this seems interesting. A cop movie with Uber. But there's nothing done interesting here until the final act, when the movie plays with its premise, but other than that, the movie is just another bland cop movie.
Last Christmas: Oh, "Last Christmas." There were good ideas with the story, and Emilia Clarke and Henry Golding have solid chemistry. However, the rest of the cast falls short and the story fails to draw any excitement. If you're looking for a Christmas romantic comedy, look elsewhere.
Cats: I've been debating between placing this in either F or D tier for this movie. It's a weird mess of a film, but it lands here because it's an enjoyable mess. Despite a paper-thin story and uncanny effects, the choreography is definitely amazing to look at and the experience is akin to watching "The Room" or any other so bad it's good movie.
C Tier
The Kitchen: I've been a fan of gangster movies since I was in high school. They're the modern successor to Westerns in the early days of Hollywood. And recently, I've been interested in female-led crime movies. There's a lot to like about this: the leading ladies give a solid performance, the premise is interesting, and had a lot of cool ideas to play with. But in hindsight, the climax felt rushed and its resolution and could have been more interesting. Despite that, this is definitely a solid movie to come across on FX or TNT.
Jumanji: The Next Level: After reviewing the 2017 film, I knew that this would follow this year on my to-review list. And while the acting was good, there were some areas that could've been used in more unique ways. The movie also goes back to the status quo for the final act, which was underwhelming. But like the last one, I accept it for what it is: a solid adventure movie.
B Tier
Once Upon a Time in Hollywood: Tarantino returns to the silver screen and is in his element with this love letter to late-sixties Hollywood. Brad Pitt and Leonardo DiCaprio have strong chemistry and enough strength to carry the film on their individual storylines. And while the Tarantino-style violence isn't up to par, the movie makes up for it with a sharp dialogue that makes his work celebrated.
Rocko's Modern Life: Static Cling: In today's era of reboots and revivals, this one does a solid job to treat the fans to the beloved wallaby bring a new meaning to modern life. The story is a brilliant meta narrative about the importance of moving forward and ties it well into the obsession with 80s and 90s nostalgia.
Jumanji: Welcome to the Jungle: Although not technically a 2019 movie, this was a film I reviewed in 2019. I never saw the original with Robin Williams, so I went into this movie blind. This worked in my favor, looking at this as the ideal remake; share the story but tweak it for a new audience. While the story is very simple, the cast is amazing and watching the Rock fight Kevin Hart, and Karen Gillan and Dwayne Johnson awkwardly kissing like teenagers is worth the price of admission.
Hustlers: If "The Kitchen" is "Goodfellas" with a female lead, then "Hustlers" is a female take on "The Wolf of Wall Street." Constance Wu and Jenifer Lopez, like any good anti-hero, make screwing people out of their money look glamorous and have an amazing chemistry. The whole movie feels more stylized than Scorsese's 2013 film. Leaving the cinema made me hopeful that it will do more interesting movies with female anti-heroes.
The Addams Family: The Addams Family have transcended generations, and in this movie, they're back again to introduce a new generation to the family. Well animated and well-cast, this is a surefire family film.
Charlie's Angels (2019): 2019 has seen three of the worst actors from the late-2000s make a comeback: Shia LaBeouf, Robert Pattinson, and Kristen Stewart, who's having the time of her life in this film. Elizabeth Banks and Patrick Stewart also shine in this movie. Along with engaging action sequences and fight scenes, this is the ideal movie for any Girls Night Out.
A Tier
Yesterday: It seems like fate that the first movie I covered for the site would be one of the best movies I've seen this year. The cast is enjoyable with Himesh Patel and Kate McKinnon giving stellar and fun performances respectively. I expected the story to follow the standard rise to stardom story, but I got one that speaks to the influence art has and that any creative person can connect with.
The Peanut Butter Falcon: Within the span of ten years, Shia LaBeouf has gone from one of the worst parts of Michael Bay's "Transformers" franchise to a solid actor in his own right. His chemistry with Dakota Johnson and Zack Gottsagen is brilliant. The cinematography makes for beautiful shots that add to the simplicity of the story.
A Beautiful Day in the Neighborhood: When I left the theater seeing this, I felt like Matthew Rhys' character; I was left thinking: "There's no way anyone can be this good." But when I said that, it was for both Mr. Rogers and Tom Hanks. Hanks is a joy in this movie, making the childhood paragon come back to life on the silver screen.
It goes without saying that 2019 brought us an interesting foray of films. And as we enter a new year and a new decade, I look forward to what not only the landscape of cinema looks like, but what lies ahead for me as a critic. Happy New Year and thank you for following my work!