In preparation for the upcoming season 5 of "Better Call Saul", I binged season 4, courtesy of Netflix.
To series producer Vince Gilligan: Please never stop making TV. Whatever he makes, I always eat right up, especially if it's a project in the "Breaking Bad" universe.
Season 4 follows disbarred lawyer Jimmy McGill (Bob Odenkirk), immediately following the death of his brother, esteemed attorney Charles "Chuck" McGill (Michael McKean). Jimmy is just about over Chuck, who leaves the vast majority of his fortune to other people, giving Jimmy only the bare minimum of his estate so he would not contest his will. He does write his brother a letter, but it does little to redeem what was low-key the most despicable character in this "Breaking Bad" prequel show.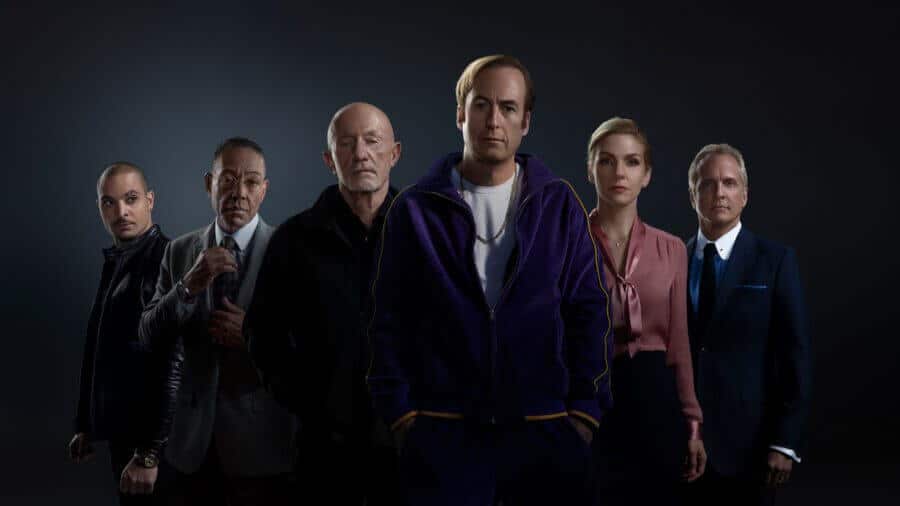 Season 4 explores themes of what people do after they made great mistakes, and how even after reform, people can't stop looking at them through the lens of their past. There's a moment in which Jimmy sits on the board of a scholarship Chuck made for area youth — a scholarship he would never in a million years give to Jimmy — and the board turns away a promising young girl who shoplifted a few years prior. Jimmy confronts her before she leaves, and gives her advice that essentially boils down to: Look, you made a mistake, and people will only see you for your mistake. They will be polite to you and be courteous, but they will never let you in. But they don't matter. You don't need those people. You make your own way, and succeed despite them.
It's the central philosophy to Jimmy's character. Even though he is reformed and has gotten his self-destructive behavior under control, he is often forced back to his old ways because of the ignorance of those around him. He's changed, but the world will always see him for his criminal past.
Jimmy spends the year working for a cellphone store, as he needs to obtain lawful employment as part of his disbarment arrangement. And he's good at it. He hits the pavement after hours, and sells burner phones to people on the street, saving up for what we all know will one day be the law offices of his alter ego, Saul Goodman. He gets in some trouble, but nothing major, as he uses his knowledge of the law, his connection to his girlfriend, attorney Kim Wexler (Rhea Seahorn), and his relationships with less than savory figures to his advantage; laying the groundwork for the character he will become in "Breaking Bad."
Speaking of Wexler, her relationship with Jimmy is on the rocks for about 95 percent of this season. Last season, she overworked herself, (she's the attorney for the large banking firm, Mesa Verde) which led herself to drive distracted and get into a car accident, and she spends most of season 4 with a broken arm, which serves as a constant reminder of her mistake. She and Jimmy live together, though their previous arrangement as law partners is on hold. They start to inhabit two different worlds, and drift apart, so much so that Wexler decides to stop waiting for Jimmy to be able to be reinstated, and joins another firm, where she convinces a partner to let her construct a banking division. After this, Jimmy begrudgingly throws all of his professional plans with her out the window, which arguably leads him to **spoilers** decide to practice under the name Saul Goodman in the season's finale instead of under his birth name when he does get his law license back. It also explains why we don't see Kim at all in "Breaking Bad."
But Kim is still there for Jimmy when he needs it, which gives hope that their relationship will endure. Like in previous seasons, she finds thrills in doing illegal scams with him, thrills her work cannot give her. Still, I don't think there is a happy ending for her, given her transgressions and because Jimmy is about to enter a self-destructive path during the events of "Breaking Bad".
The last two episodes of this season are also tense in the regards that Jimmy almost doesn't become a lawyer again. Of course, even those who haven't watched a single episode of "Saul" could call the bluff, but it creates character-driven drama that has you on the edge of your seat. It's classic Vince Gilligan.
Drug Lord Gustavo Fring (Giancarlo Esposito) and enforcer Mike Ehrmantraut (Jonathan Banks) are also about nefarious business this season, as they deal with the crippling of fellow Drug Lord Don Hector Salamanca (Mark Margolis) and a team of German engineers Gus works in secret with to build him a huge underground chasm where he can have people cook meth.
Mike is great in this, and the storyline with the German workers is one of the most heartbreaking ones in the show. Vince Gilligan isn't slowing down anytime soon, and it's arguable that "Better Call Saul" is getting to the point where it's as good as "Breaking Bad."
I can't give this season any less than a 9/10. It's beautiful, like a carefully crafted painting made from someone who's been painting all his life. As the show nears its inevitable, necessary end as the events of "Breaking Bad" near, I'm going to miss this show when it's over, and I hope Gilligan has other tales in the "Breaking Bad" universe he wants to tell.