The one complaint I have about Netflix's "Castlevania" Seasons 1 and 2 is that they have the content of one season (they have 16 half-hour episodes combined, with Season 1 really feeling like a pilot at four episodes).
That being said, when you put them together, you have a glorious bloodbath, full of memorable characters like series leads Trevor Belmont (Richard Armitage), an iconic monster hunter who uses a chain whip; the sassy, strong mage, Sypha (Alejandra Reynoso); and the half vampire Alucard (James Callis), as well as the mad vampire lord himself, Count Dracula (Graham McTavish), who wanted to exterminate the human race because they killed his wife, Lisa (Emily Swallow).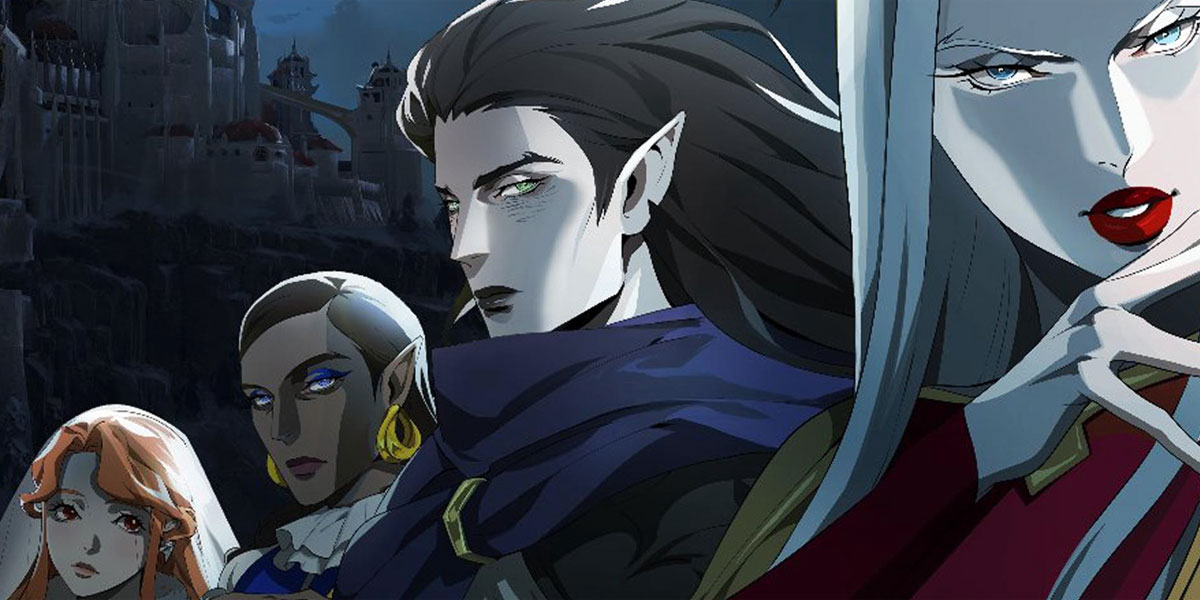 Season 2 introduced Dracula's court, including the scheming Vampire Lady Carmilla (Jaime Murray), who takes a leading role in picking up the pieces of the vampire world in Season 3 after Dracula's death in the Season 2 finale; as well as Forgemasters (people who make obedient monsters from dead bodies) Isaac (Adetokumboh M'Cormack), who sets out to amass his own army in Season 3 as he believes his fellow forgemaster, Hector (Theo James) betrayed him by abandoning Dracula. Isaac and Hector are interesting because they were manipulated by Dracula to help him exterminate the human race, and Season 3 explores questions as to whether or not Dracula would have spared them. Hector ends up growing far from Dracula's influence, while Isaac remains loyal and committed, albeit he is pushed to be his own person and set his own agenda (to tell his own story, as the show puts it).
In place of Dracula's court, we meet the three other ladies that rule Carmilla's snow-capped homeland when she returns there from Dracula's epic defeat, including Lenore (Jessica Brown Findlay) the diplomat of the court, Morana (Yasmine Al Massri) the strategist, and Striga (Ivana Milicevic), the warrior-general of the court. Lenore is the most interesting, as she seduces Isaac (quite literally) into becoming obedient to their kingdom. Carmilla is painted as an impractical dreamer in this season, as her co-rulers often have to figure out how to practically carry out her visions (in this case, it's how to physically invade and regulate a large stretch of land). Season 3 sets up tension in Carmilla's court, tension that hopefully pays off in Season 4.
Trevor and Sypha spend Season 3 in a small town where strange happening are about at a priory run by mad monks who want Dracula to come back. Suspecting dark magic, the town's leader, simply named The Judge (Jason Isaacs), wants to know what's going on, as he suspects it relates to a night creature (their name for Hector and Isaac's monsters) that fell into the priory. As The Judge is forbidden to enter the priory, and he can't force his way in as the monks carry weapons and are alluded to be trained killers that outnumber his soldiers, he enlists the help of Trevor, Sypha, and a travelling scholar named Saint Germain (Bill Nighy) who is in town for his own personal reasons. It is here that we get the grand season finale, which pales in comparison to Season 2's, but I appreciate the producers' efforts to go micro in Season 3, after going macro in Season 2. It would have been a great mistake to continue ramping up the action to the point where it has no meaning and you can't tell what is going on.
Alucard has the weakest arc, as he is tasked with guarding the ruined castle of his father, as well as the Belmont hold (where the castle is now on top of), after the events of Season 2. As Jeremy Jahns puts it, we get sad Alucard in Season 3, as he spends much of the season lonely, until two Japanese Monster Hunters arrive, eager for secrets to fight vampire in their homeland. Without spoiling too much, it doesn't go so well, and Alucard ends up repeating some mistakes his father made with humans. It's a real shame, as a vampire-hunting adventure with Alucard in Japan would have been a fun change of pace, and the direction they go in with the two hunters is just downright bizarre.
"Castlevania" Season 3 is as visually-gorgeous as ever, but the best things it does is set up greater things for Season 4. It's still a pretty good season, but like Season 1, it really feels like half of a full season of television. That being said, what it does do is done well.
"Castlevania" Season 3 gets an 8/10