During the coronavirus outbreak that has seen most people around the world stuck at home, Disney released "Frozen 2" and "Star Wars: The Rise of Skywalker" early on its streaming platform. In contrast, Netflix gave us "The Platform" and the absolute insanity that is Season 1 of "Tiger King: Murder, Mayhem and Madness."
This is the reason I'm not canceling my Netflix subscription any time soon.
"Tiger King" follows the story of Joe Exotic, a gay, gun-toting redneck who at one point was part of a triple marriage, who ran for president, then governor, and made his living by running an exotic zoo featuring big cats such as lions and tiger in Wynnewood, Okla.
He's currently in jail for a murder-for-hire scheme against his longtime rival, Big Cat Resue CEO Carole Baskin. Exotic and Baskin fundamentally disagree on how big cats should be treated in captivity, as Exotic, as well as his mentor, Doc Antle (we'll get to him later), believe in up close and personal experiences between them and park goers (i.e. live animal shows, cub petting), while Baskin believes that the only place those animals should live is away from humans, in their natural habitats. In fact, Baskin has worked closely with PETA, and goes so far as to say what Exotic and Antle do is animal abuse.
There's no good guy or bad guy in this show; everyone is both right and wrong to a certain degree, and everyone has skeletons in their closet.
Take Antle for example; he runs an animal preserve in Myrtle Beach, S.C., and trains his animals for Hollywood films. But the docuseries reveals that he pays his workers starvation wages, they're not allowed to take days off or go on vacation, and the female workers are pressured to sleep with him in order to get ahead (he has multiple wives/girlfriends). But he is correct in his central argument that it is important for the public to have access to these animals and to be able to form some meaningful bond with them, because people have a habit of only caring about things that personally affect them, as well as what they can see, feel and touch. By keeping these animals separated from people, it makes fighting for their rights and the preservation of their habitats much harder to do.
Exotic shares these sentiments, too, and indeed, he started his zoo through altruistic purposes to help the animals. But the more the zoo became a business for him as well as his livelihood, the more he cut corners, and the more his ego grew, and he began to exploit his tigers for both personal and financial gain. The Joe Exotic we see in the docuseries feeds his tigers expired meat from Wal-Mart, sells and breeds them when he's strapped for cash regardless of the legality, and hurts anyone who damages his pride or gets in his way, whether that be Rick Kirkham, who produced his web show and was producing a reality TV show on him, his own mother, or Carole Baskin. But in the end, Exotic hurts himself more than anyone else.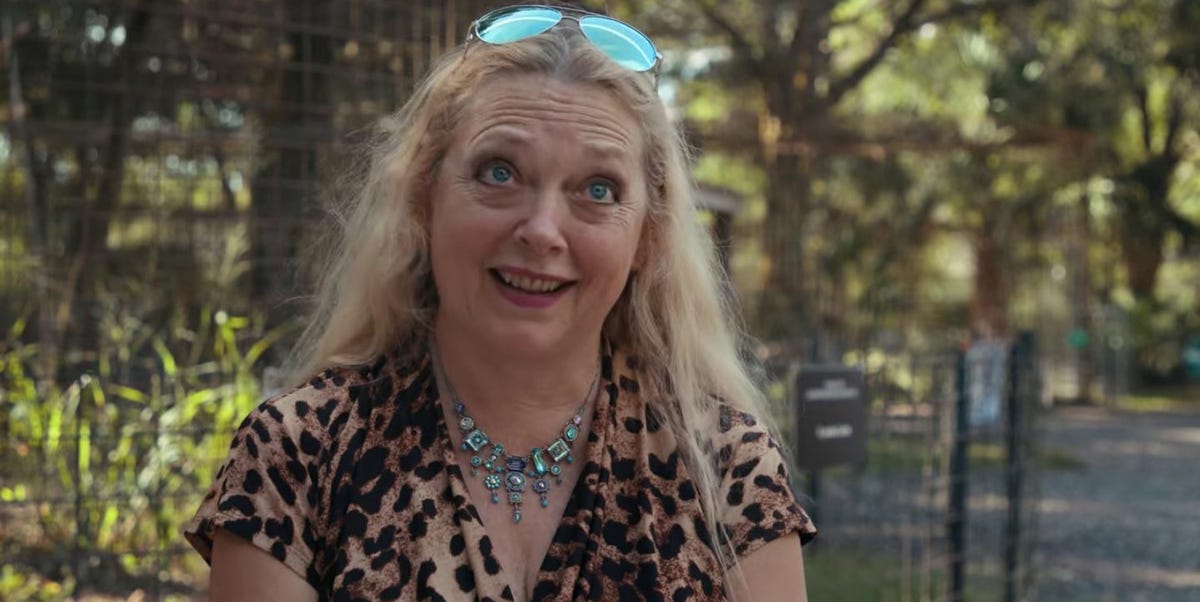 Exotic does terrible things in this show, but he does elicit some sympathy. He was a guy who dreamt big who was in over his head, and while he does retaliate hard against those he felt wronged him, his rivals aren't completely innocent. Exotic burned down Kirkman's reality TV show footage after he realized he was exploiting him, and essentially made it so Kirkman owned all the footage, and Exotic owned none. A lot of the efforts Baskin and PETA made to shut Exotic down seem frivolous, relentless and over-the-top (for example, early in his career, Exotic would bring his animals around the country to malls, and they did all they could to track down said malls, call the owners, and get him shut down). Exotic eventually goes into business with a guy named Jeff Lowe, who sells him out and helped construct the murder-for-hire plot Exotic went down for, though Lowe received no penalty whatsoever.
It should be no surprise that this show shined a spotlight — or a target — on Baskin more than anyone else, as while Exotic was indicted of tiger abuse (illegal breeding, euthanasia, etc., though as Antle and Exotic remark in the series, it's hard to avoid those things in the business they're in), and murder-for-hire, Baskin was caught up in an alleged murder plot of her own, as her late husband, millionaire Don Lewis, disappeared without a trace in 1997 shortly after he tried to file a restraining order against her, fearing for his life. The docuseries interviewed Lewis's ex-wife whom Lewis left to marry Baskin, as well as their children, revealing that Baskin somehow suspiciously re-worked his will to say that, if he were to disappear, most of his money would go to Baskin.  
This has led "Tiger King" viewers rightfully angry, as Baskin should be the prime suspect, yet the police department that investigated the incident found no evidence linking her to the murder. There has been some hope, though, as that same police department has made a call for tips relating to the cold case after the docuseries dropped, and while they haven't found anything of use yet, the show has brought newfound national attention to the case.
The series itself does a fine job documenting the lives of three individuals involved in the seedy world of exotic big cats, even if there are some inevitable information the series missed. It's a 7-episode docuseries with episodes between 41 and 48 minutes; there is only so much that a series of this scope can cover, and you get a distinct feeling that the story this series is telling is far from over. I wouldn't be surprised if we see a "Tiger King" Season 2 in a few years, and we're already going to get a biopic about the Exotic-Baskin feud starring Kate McKinnon.
This is definitely a project only Netflix would greenlight, and good for them for doing it. I really appreciate that once in a while Netflix will give us something really strange and unique, and so long as they keep funding brilliant and weird original works, Netflix will keep my subscription.
"Tiger King: Murder, Mayhem and Madness" Season 1 gets a 7/10