It's hard to grasp that we're already halfway through the year. Because the coronavirus sent normal life to a screeching halt, I've been understandably staying inside a whole lot more. I haven't been to a movie theater in months, and in truth, mentally I still feel like we're in March, and indeed, it feels like only three months of content have come out in the film and television industries.
So when I say that Spike Lee's "Da 5 Bloods" Netflix-exclusive film is the best film I've seen of 2020, it stands firmly above everything else I've seen this year, though there has been less competition. But truth be told, I think the film would have held its own had the theaters' regular schedule went on as planned; it's that powerful of a film.
"Da 5 Bloods" follows four black Vietnam veterans made up of Paul (Delroy Lindo), Otis (Clarke Peters), Eddie (Norm Lewis) and Melvin (Isiah Whitlock Jr.) who are returning to Vietnam in the present day to not only find their lost fifth "blood", Norman Earl "Stormin' Norman" Holloway (Chadwick Boseman), but to also recover a cache of United States gold they hid back in the day. Along the way, Paul's son, David (Jonathan Majors), joins them and is begrudgingly given a share, and they embark on an adventure into the Vietnamese jungle with limited help from their guide, Vinh (Johnny Trí Nguyễn), Otis's former Vietnamese girlfriend, Tiên (Lê Y Lan), and a seedy French businessman named Desroche (Jean Reno), who they enlist to help them cash out the gold.
Their journey is intercut with flashbacks to the group's time in Vietnam, in which Norman was not only their squad leader, but also their spiritual leader as well. We see each of the younger five bloods form an unbreakable bond in Vietnam that is revived years later in the film's modern day scenes, and it works wonderfully, with Boseman having an absolute breakout performance as Norman, despite being confined to flashbacks and a dream sequence. Boseman, famous for his portrayal of fictional Wakandan King T'Challa in Marvel's "Black Panther" films, somehow becomes even more iconic in this movie.
It shouldn't be groundbreaking to say that Spike Lee is a very good filmmaker, and his control of the narrative and world of "Da 5 Bloods" really shines in this film. His respect for worldbuilding, character building and the film's subject matter draws instant comparisons to Francis Ford Coppola's masterwork "Apocalypse Now," albeit "Da 5 Bloods" tells a very different story in Vietnam, and the war is told from a completely different perspective. Despite not being based on a novel, "Da 5 Bloods" characters and world feel so real and well thought out that the film really feels as if it has literary roots.
**light spoilers ahead**
Three of the four living bloods have major character arcs. Paul suffers from PTSD and contradicts himself many times in this film through his behavior and rhetoric, with the largest symbolism of his conflict being the fact that he voted for Donald Trump for president, and prominently wears a MAGA hat throughout the film, which is later revealed to be tied to his guilt in accidentally shooting and killing Norman years ago. He also struggles with fatherhood, as it's revealed that his relationship with his son, David, was far from perfect.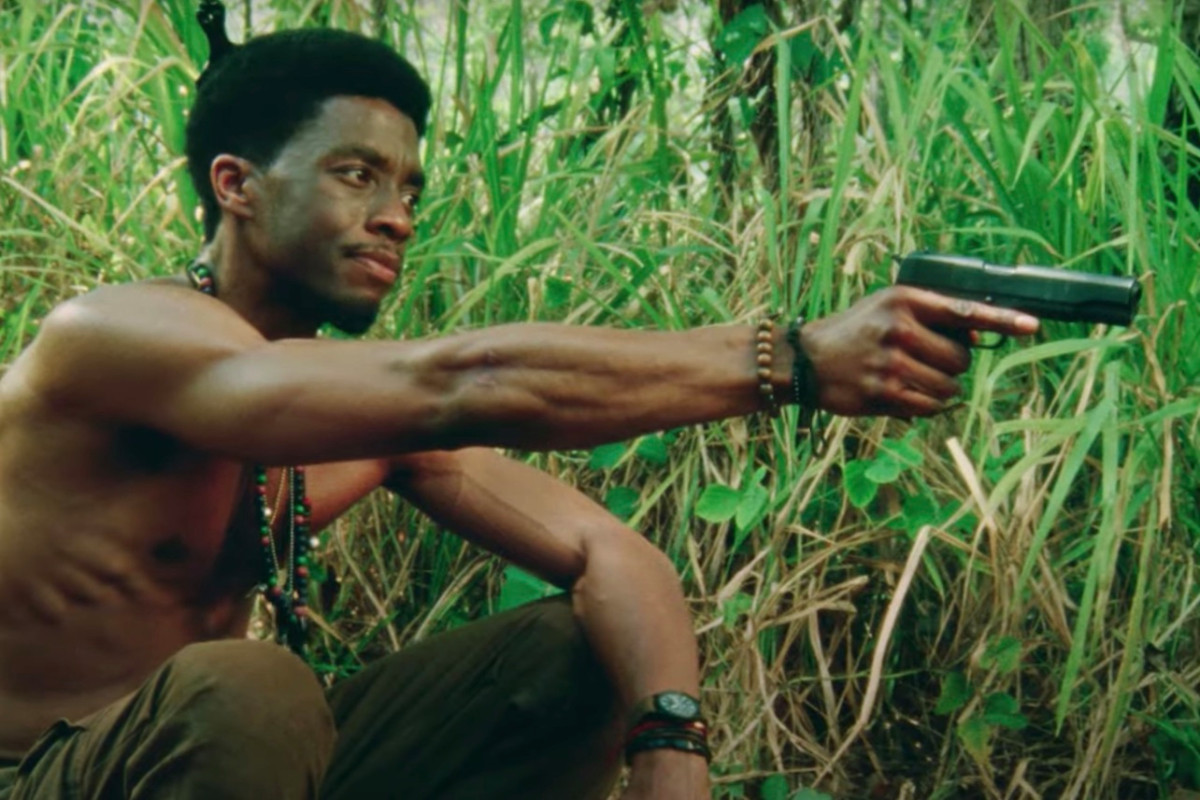 Eddie is revealed to be a broke millionaire, as he had previously amassed millions, only to loose it all. And he saw the trip as a means to reconnect with his friends one last time.
Otis finds out that he had a daughter with Tiên, and he has to decide if he wants to start a relationship with her or not. While it could have been more fleshed out, it adds some great emotional resonance in the film.
Melvin serves as a solid supporting character during the adventure, but I definitely felt like Lee didn't quite know what to do with him, which inevitably can happen when you have a film with a large cast. The same can be said of Hedy (Mélanie Thierry), Simon (Paul Walter Hauser) and Seppo (Jasper Pääkkönen), who are white people that run LAMB (not the movie blog association), a nonprofit that specializes in diffusing landmines in Vietnam.
Norman, Otis, Paul and David for the most part serve as the main characters in the film. Desroche serves as a dastardly villain who doubles crosses the group and, at one point becomes a literal symbol of white imperialism in an iconic scene where he dons Paul's Tump hat. Vinh is surprisingly likeable, and becomes an unlikely ally to the group. David has an almost natural romance with Hedy. But Paul's character journey is probably the most notable, as he learns to forgive himself for Norman's death.
** spoilers end**
I would watch this film again. It's not a masterpiece, but it had the potential to be one. Regardless, it is still a pretty solid film and, in my opinion, the best 2020 has to offer so far.
"Da 5 Bloods" gets a 9/10