I missed out on "Cobra Kai" when it was on YouTube Red. Thankfully, Netflix has bought the rights to the show and greenlit a third season for it, which is set to drop in 2021 on the platform. I finally got to see what the hype was about this show, and I wasn't disappointed. Light spoilers ahead.
"Cobra Kai" stars Johnny Lawrence (William Zabka), the antagonist of the first "Karate Kid" film, whom Daniel LaRusso (Ralph Maccio), the protagonist of that film, kicked in the face during the All Valley Under-18 Karate Championship at the climax of the film. Lawrence peaked in high school, is an absent father, an alcoholic, and is down on his luck when "Cobra Kai" opens. Canonically, about 35 years have passed since the original "Karate Kid."
Lawrence crosses paths with LaRusso when his daughter, Sam (Mary Mouser), and her friends, damage his car in a hit-and-run accident, and his car just so happened to be towed to LaRusso's dealership. Since the original "Karate Kid" movies, LaRusso got married, had kids, and opened up a car dealership with a Karate-themed gimmick (he "kicks the competition", and all customers get a free bonzai tree with their purchase). LaRusso is by all means upper class, and one of the things I love about this series is that Danny is not treated as the ultimate hero like he was in the "Karate Kid" films. "Cobra Kai" takes the characters in the original "Karate Kid" films, ages them, and makes them complex. LaRusso is presented as a do-gooder with a very black and white view on a gray world, in which no one is truly good or evil, just flawed, and it shows how harmful it can be to keep people in simplistic boxes when they have clearly grown beyond who they once were.
What redeems Lawrence is his treatment of his neighbor, Miguel Diaz (Xolo Maridueña), an energetic high school kid who gets bullied much in the same way LaRusso was in the original "Karate Kid". Lawrence saves Miguel when a bunch of Sam's rich friends decide to wail on him, which prompts Miguel to beg Lawrence to train him. After some forced interactions with LaRusso, who remarks on how he thinks it's for the best that Lawrence's old dojo, Cobra Kai, shut down years ago, Lawrence decides to resurrect it, with Miguel as his first student.
Season 1
Season 1 mainly focuses on Lawrence building Cobra Kai up, while LaRusso secretly tries to foil him, first by driving up his rent by convincing his landlord the building is worth more than it is, and then by trying to uphold a 1985 lifetime ban the All Valley karate tournament committee imposed on the former Cobra Kai led by Sensei John Kreese (Martin Kove), who everyone thinks is dead.
Lawrence soon finds out that if he is going to make Cobra Kai a feasible business, he'll need more than one student. Miguel ends up getting romantically involved with Sam LaRusso, which complicates things, as despite having over three decades to get over themselves, Daniel LaRusso and Johnny Lawrence still hate each other and keep their rivalry alive, to the detriment of their communities and their children, who don't have any reason to continue the bad blood.
Lawrence's biological son, Robby Keene (Tanner Buchanan), further complicates his relationship with the LaRussos. Robby is a delinquent at the beginning of Season 1, and ends up getting a job at LaRusso's car dealership as a means to hurt his father, who was absent most of his life (his mom was as well, though she has custody). Danny takes him under his wing, eventually convincing him to let him teach him karate in the same ways Mr. Miyagi, who has been dead for years, taught him in the "Karate Kid" films.
Sam's oldest friend, Aisha Robinson (Nichole Brown), also joins Cobra Kai. Miguel recruits a kid names Eli (Jacob Bertrand), to join Cobrai Kai, who undergoes a dramatic transformation as a result of advice Lawrence gave him. Eli, along with his best friend, Demetri (Gianni Decenzo), are two nerds who befriend Miguel on his first day of school. Where Demetri is fine with avoiding conflicts, Eli goes overboard, gets a mohawk and a back tattoo, and starts going by the name of Hawk, to compensate for a scar on his lip. Hawk soon becomes one of the best fighters in Cobra Kai, but also one of the most problematic ones, as his overcompensation molds him into a stereotypical bully.
All of these plot threads come crashing down in Season 1's finale, in which Johnny Lawrence finds out Robby is training with LaRusso and LaRusso finds out he's Lawrence's son, while the All Valley karate tournament looms. The tournament is a fitting way to end Season 1, and it sets up Season 2 nicely, as an unexpected appearance by Robby in the tournament prompts LaRusso to take him back and officially coach him through the tournament under the newly-created Miyagi-Do dojo. Robby makes it to the finals, where he faces Miguel, but only after getting wounded by Hawk, who injured him in the semifinals when his back was turned. Miguel wins the tournament by exploiting Robby's wound, but it is a hallow victory, as it was gained through cheating, and that doesn't sit well with Lawrence, who realizes if Cobra Kai is going to be successful, it will need to change.
Season 1 ends with the return of John Kreese, Lawrence's old sensei who nearly killed him the the "Karate Kid" films; a fantastic cliffhanger that would further complicate the delicate narrative the show had been weaving.
Season 1 is fantastic. I love how it flips the script on the Lawrence-LaRusso rivalry, with Lawrence spending the show as the underdog, in poverty, with something to prove, and with LaRusso living a life of luxury; the opposite of where they were in "Karate Kid". The show illustrates quite well how everyone is a product of their environment and there are few true villains in life. Had Lawrence and LaRusso grown up in different circumstances, they probably would have been friends, as they both have grounded philosophies about standing up for others, not putting up with bullies, and a love for karate. But the way they go about realizing those three things are very different and seemingly incompatible, but Season 1 proves that all they need to do to bury the hatchet is go out and have a drink.
It also does a fantastic job of balancing old and new characters, so much so that I have to say "Cobra Kai" is the gold standard for these sort of soft reboot shows. If you focus too much on new characters, like the "Star Wars" sequel trilogy, you risk being too disconnected from the property you want to branch off of. But focus too much on old characters, you risk sidelining the younger, next generation characters you want to eventually pick up the torch.
It was smart to make Lawrence and LaRusso mentor figures, as it plants them firmly in the narrative as opposing driving forces, but it also allows the kids they teach to have their moments in the spotlight and push the show forward into new territory.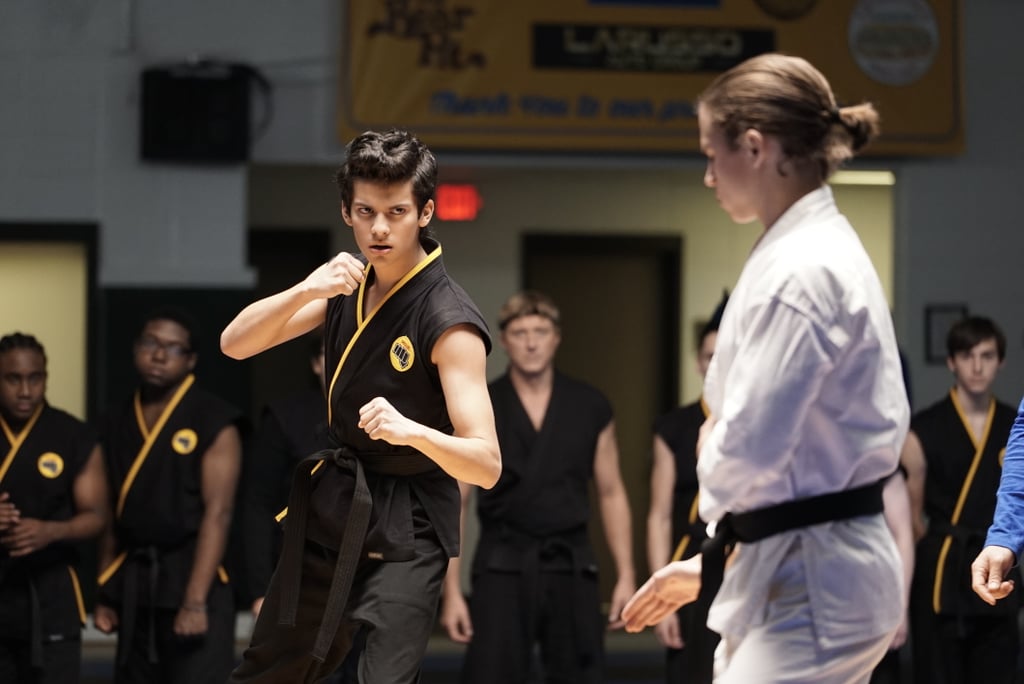 Season 1 is a solid bit of TV you will eat up if you loved the original "Karate Kid". The 10-episode streaming format really works for this type of show, and it is clear that everyone involved had a lot of respect for the original films and their characters, while being keen on crafting a tale that can stand on its own.
"Cobra Kai: Season 1" gets an 8.5/10
Season 2
Season 2 is all about the rivalry between Cobra Kai and Daniel LaRusso's Miyagi-Do dojo. After Robby's second-place finish in the All Valley tournament, Daniel has convinced his daughter, Sam, to join his dojo, which he creates from the old home of Mr. Miyagi. Daniel buys online ads advertising Miyagi-Do, but despite offering his lessons for free, he finds it difficult to find new students, all while his dojo puts a strain on his marriage and his business.
But after Miguel's victory, an influx of new students flood to Cobra Kai, and business is booming. Lawrence, however, did not forget the way in which Miguel won, and he punishes them, realizing that the way he was taught was imperfect, and needs to change if he wants to avoid repeating the mistakes of the past. This becomes very hard to accomplish when his former sensei, John Kreese, comes back into his life.
If you've seen the first two "Karate Kid" movies, you'll know that Kreese is just about one of the worst people on the silver screen. A war vet who never mentally came home, he taught a brutalized form of karate that was hyper-masculine and dishonorable, comparing karate combat to war. And he created a toxic environment that led Lawrence and his friends down a dark path.
Kreese in Season 2 is a shadow of his former self. After Cobra Kai shut down, he became a broken man, and is presumably homeless. Lawrence understandably wants nothing to do with him, but Kreese puts in an effort to make amends, even going so far as to repair his second place trophy he broke over thirty years ago, which convinces Lawrence he deserves a second chance.
There are some new characters in Season 2, particularly Tory Nichols (Peyton List), a kick boxer who joins Cobra Kai, and becomes Miguel's love interest when he breaks up with Sam. Her and Sam form a rivalry, as does Miguel and Robby, when Robby becomes romantically interested in Sam. In Season 2, Robby starts to live with the LaRussos when his mom leaves and forgets to pay the electric bill, which further complicates Lawrence's relationship with Daniel. Really, "Cobra Kai" at its core is about a group of people who are inextricably connected to each other, but struggle to get along even when it's in everyone's best interests to cooperate.
Lawrence and Daniel's relationship hits a critical mass when Kreese decides to intimidate Daniel and encourages Hawk and other members of Cobra Kai to vandalize Miyagi-Do, going so far as to steal Mr. Miyagi's Medal of Honor, an action that convinced many of Lawrence's new recruits to ditch Cobra Kai and join Miyagi-Do, which births a bloody rivalry between the two dojos that splits friend groups, particularly that of Hawk and Demetri, who joined Miyagi-Do.
The rivalry only escalates, and Kreese is keen to fan its flames. Lawrence soon realizes giving him a second chance was a mistake, but it's too late. The show's finale is a wonderfully shot all-out brawl on the first day of school between the two dojos, that leaves everyone battered and Miguel with a critical injury he'll hopefully survive in Season 3.
Season 2 built off of Season 1's foundation, and further explores not only how silly Lawrence and LaRusso's rivalry is, but also how destructive it can be. Season 2 leaves Lawrence at his lowest point, with Kreese finessing his landlord to take his dojo (he could be lying, though), and his best student in critical condition, and all his students much worse off than before they learned karate.
Secondary characters also shine in this season, with Hawk and Demetri's spat being one of the most dramatic and entertaining rivalries in the show, quickly followed by Miguel and Robby and Sam and Tory. Season 2 has this excellent overall plot of the two warring dojos made up by smaller, excellent subplots driven by the kids.
Season 2 is much better than Season 1. It's a strong installment in what was already a really great show.
"Cobra Kai" Season 2 gets a 9/10
Final Thoughts
"Cobra Kai" is a show that's hard to take your eyes off. It expands the original "Karate Kid" films, and I think it surpasses them. How it handles character relationships and conflict is excellent. as well as how it grows and ages characters from the original films. Everyone has believable flaws, and it's possible to see almost anyone as the hero of their own story, even to some extent, John Kreese. "Cobra Kai" doesn't have outright bad people, just flawed people who behave and act in accordance to the circumstances in their lives.
"Cobra Kai" is the gold standard as to how to revive a nostalgic property.