After over a year of hiatus, Amazon's dystopian superhero show "The Boys" is back, initially airing its first three episodes Sept. 4, and then releasing an episode every Friday after that Disney-Plus style. As someone who loved the first season, it's great to have this show back, even if I'm not a fan of how Amazon is staggering its release. Spoilers up ahead.
Season 2, initially follows Hughie Campbell (Jack Quaid), Mother's Milk (Laz Alonso), Frenchie (Tomer Capon) and Kimiko (Karen Fukuhara), as they grapple with being wanted fugitives separated from their leader, Billy the Butcher (Karl Urban), who is being charged with the murder of Vought Vice President Madelyn Stillwell (Elisabeth Shue), who was in fact killed by "Superman" and "Captain America" wannabe Homelander (Antony Starr) at the end of Season 1. They set up shop in a grungy basement and assess their options, fearing that Butcher is dead and Vought won.
They do have one powerful card up their sleeve, however, and that is to expose the existence of Compound-V, a chemical that Vought manufactures to create superheroes, as well as, supervillians. Vought is a giant conglomerate that controls the superhero game and has unlimited resources, but is a publicly-traded company at the mercy to public goodwill, which Hughie and the gang seek to destroy, with the help of his ex-girlfriend and member of "The Seven" (basically the "Justice League") Starlight (Erin Moriarty). And they do. Compound-V is pretty easily leaked, throwing the company into chaos.
Kimiko's brother, Kenji (Abraham Lim), also makes an appearance int he show, albeit briefly. He's been radicalized as a "supe terrorist", and brings a lot of attention on Hughie's group from The Seven. Thankfully, Butcher returns and helps them survive, but there is little he can do to save Kenji from The Seven's newest member, Stormfront (Aya Cash), who is basically a racist, whitewashed version of Storm from "X-Men". Stormfront is a master of social media, but is also a sociopath who we find out is probably over seventy years old. We find more about her in Episode 4, where Hughie, Mother's Milk and Starlight go on a roadtrip to the South to investigate a race-based murder she committed there in the 70s, but so far, we don't know her whole story. But suffice it to say, I think she might be worse than Homelander as a person. Maybe …
Butcher has an interesting subplot with his wife and her illegitimate child, and I'm interested to see what the show does with his character, as his whole identity last season was based off him thinking he had nothing to live for other than revenge (He thought Homelander raped and killed his wife). Urban is great in this, and I expect that Butcher will have a pivotal role in tearing down Vought (with the leak of Compound-V's existence to the public, that seems to be where the show is going).
So far, I'm enjoying "The Boys" Season 2. It won't give you as much of a punch as Season 1 did, as while Amazon is sticking to a weekly release schedule, the show doesn't adopt a weekly format in which each episode is easily self-contained with individual payoffs; it still very much feels like a show that is meant to be binged in which each episode sets up smaller subplots that set up the next episode that eventually all fold into the show's finale (at least I hope this is the case). But I have hopes that when Season 2 finishes next month, it will reach heights even greater than Season 1.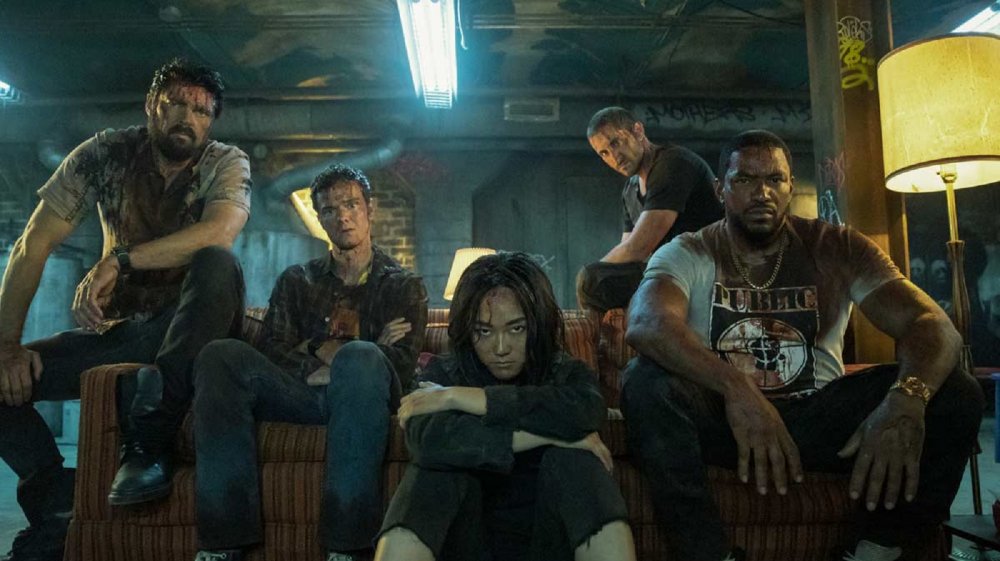 I am eagerly awaiting Episode 5. With half the season basically over, I have a feeling everything the show has put into motion is about to pay off in major ways.
I can see why Episodes 1-3 were released all at once, because they have a lot of setup. Of the bunch, Episode 4 is clearly the best, mainly because we see some payoff as to Stormfront's background and some good character development from Hughie, MM, and Starlight.
With that being said, there is a lot of solid storytelling in these four episodes. Though it is superhero satire, it is grounded by complex, ugly characters whose flaws make them more believable than those you will find in a standard Marvel or DC film and because of that, its drama and conflict work, and its storytelling is compelling.
"The Boys" Season 2, Episodes 1-3, get a 7/10
"The Boys Season 2, Episode 4, get an 8/10