Every once in a while, Netflix will drop a little film with a star-studded cast that will either hit it out of the park, or be a terrible waste. "The Devil All the Time," which stars Tom Holland, Sebastian Stan, Robert Pattinson, Jason Clarke and more, falls somewhere in between. 
The film is essentially the story of Arvin Russell (Holland as his older self, Michael Banks Repeta as young Arvin), his stepsister Lenora (Eliza Scanlen), and how the sins of their past combined with individuals' twisted faith in the impoverished backwoods of Coal Creek, W. Va., in the 1940s-60s lead them down a path of manipulation and violence.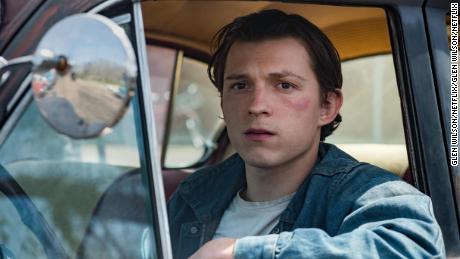 The film is based off a novel of the same name, written by Donald Ray Pollock, who narrates part of the film, and as such, it takes its time setting up its conflict. We don't even see Holland and Bennett until a good way into the film, as the first third of the film centers around their parents.
Arvin's dad, Willard (Bill Skarsgård) was a World War II veteran who married a waitress named Charlotte (Haley Bennett). The two started a family together in Knockemstiff, Ohio, and rented for about 9 years when Charlotte was diagnosed with cancer, which she succumbed to. Willard had previously established a prayer log in the backyard, and forced Arvin to pray for his mom. Nothing works, and Willard went mad and shot and crucified Arvin's dog to the prayer log, before killing himself, leaving Arvin orphaned. 
Lenora's parents were a shy girl named Helen Hatton (Mia Wasikowska) who lost her family to a fire, and a deranged preacher named Roy Laferty (Harry Melling), who was known for flashy sermons in which he would put a jar of spiders on his face to prove his faith. One day, Roy gets a hallucination that he can bring people back from the dead, and he tries this on Helen, but when he kills her, she stays dead. He flees but has a change of heart and finds himself hitchhiking to see his daughter, in which he gets caught in the grasp of a serial-killing couple Sandy (Riley Keough) and Carl Henderson (Clarke), who take pictures of their victims to satisfy Carl's necrophilia. Lenora was staying with Arvin's Great Uncle Earskill (David Atkinson) and grandmother, Emma (Kristin Griffith), and she ends up growing up with them and Arvin. 
Stan plays the local Sheriff, who is also Sandy's brother. By one way or another, all of these characters are connected by circumstance or blood, and it creates unique and compelling drama. 
I really liked how both Arvin and Lenora inherited the sins of their parents, with Arvin having to live with the atrocity his father committed by acting as Lenora's guardian angel and being a force of justice moreso than the town's sheriff, and Lenora, just like her mother, falling prey to a corrupted priest when a young, handsome pastor named The Rev. Preston Teagardin (Pattinson) comes to town. Teagardin preys on her naivety and blind faith in not only christianity, but the assumed goodness of Church authority figures just like her mother did, which leads to her having sexual relations with the pastor and sets her and Arvin's tragic character arcs in motion.
The main cast of Holland, Scanlen, Stan, Pattinson, Melling,  Keough, Clarke and Skarsgård is incredibly strong, with Holland, Pattinson and Melling being almost almost completely unrecognizable in their performances. And I really liked the material they were given. Having the film take place in two towns over a few decades allowed the filmmakers to add some personality to their locations, and almost every character has unique personalities and motivations that get in the way of each other and create conflict. 
This is not an A plus movie, but it gets a strong B, solely because, while the film is competently made and tells a compelling story, nothing sticks out as going above and beyond, except the film's climax, which I thought was done very well. There are pacing issues with this film — I almost tuned out in its first 15 minutes because it didn't feel like it was going anywhere — but once the film gets going and properly sets up Arvin and Lenora, it's hard to take your eyes off it. 
During a normal year, this film would not have a shadow of a chance at an Oscar. But given the slow trickle of releases, I wouldn't be surprised if this film gets a nomination for something, only because period pieces like this usually do well with the academy, and the film has a lot of big-name actors giving good serious performances. I personally don't think this film is up to Oscar snuff, but bar an explosion of excellent titles at the end of the year, I think it has a fighting chance.
I would recommend this film to anyone who wants to see a dramatic, character-driven period piece film. This film is often marketed as a thriller, and I don't think it fits that category, but it certainly has some pretty great suspenseful moments created by good storytelling.
"The Devil All the Time" gets an 8/10